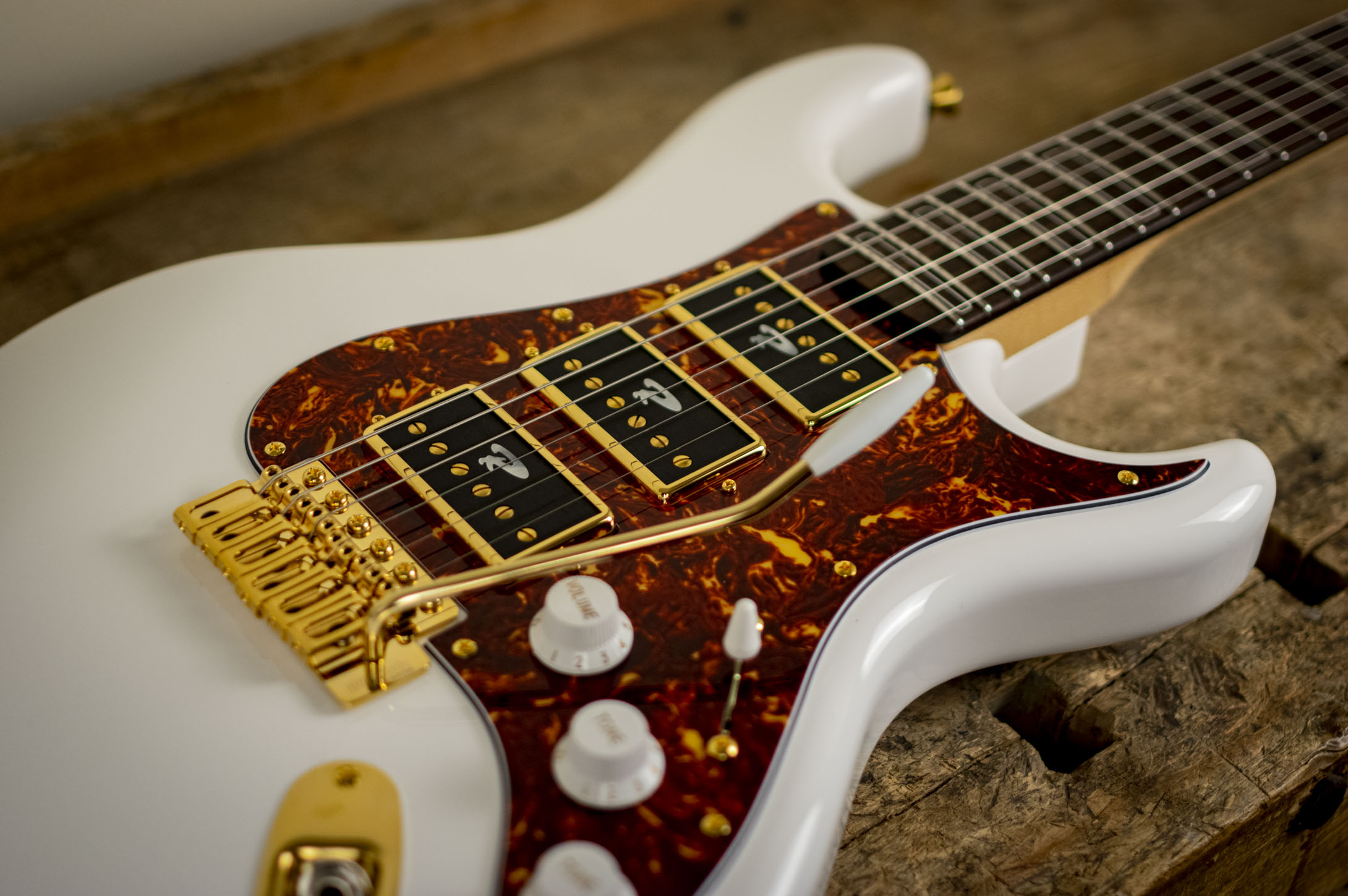 From 3D animation to reality
Some time ago, during one of our coffeebreaks one of my master luthiers – Jyrki Kostamo, that is – played with our Cuitar Creator app and came up with a Snow White coloured VSOP Classic, matching headstock colour, gold hardware and tortoise pickguard. He showed the guitar on the screen (scroll down and watch the screen capture video from Guitar Creator!) and said he'd like to make one like that – Snow White (looks great in stage lighting!) but with custom fret markers that are not available in the Guitar Creator. Sure, I said – go for it! Let's put it on our stock page when it's ready!
This is a good example how helpful our configurator can be – you can use it as a serious tool when planning a custom guitar. Sometimes the app doesn't offer  100% what you're after – but in most cases that extra mile can be made true – just ask!
Not so long time ago Jyrki got the guitar ready! Compare the 3D modelled Guitar Creator image with the real thing – it's pretty darn close the same, isn't it? Well, not the fret markers, but otherwise it's spot on!
I picked the guitar up and played a few chords, and was immediately reminded of one thing that makes our guitars special. The way they respond unplugged – like a grand piano! And that said I have to immediately remind myself (to not get all worked up bragging!) that a big part of the glory must be addressed to the Thermal Ageing process of our wood. Proud to be part of the continuum kicked in motion many decades ago in Vilppula by my guitar making mentor, Dr. Rauno Nieminen and his 'Thermally Aged Tonewood' gang of inventors!
If your taste in guitars matches with Jyrki's, here's a chance to get a custom guitar without the long wait you'd normally have ahead of you. If you're interested and/or have questions about the guitar or the purchasing process, contact me.
Body finish: Glossy body finish
Body wood: Alder (Alnus Glutinosa)
Bridge: Wilkinson/Gotoh VSVG
Fret marker style: Silhouette Blocks
Fret material: Stainless Steel
Fretboard: East Indian Rosewood (Dalbergia Latifolia)
Fretboard finish: Oil/Wax
Headstock colour: Matched with body
Neck finish: Satin neck finish
Neck wood: Rock Maple (Acer Saccharum)
Pickguard: 4-ply Red Tortoise
Pickup set: SingleSonics / Matched set
Strap buttons: Gotoh Straplocks
String gauge: Elixir Nanoweb 010-046
Tuners: Non-locking Gotoh SD91
Wiring: Vol-Tone-Tone / 5-way switch
Case: Hiscox custom hard case